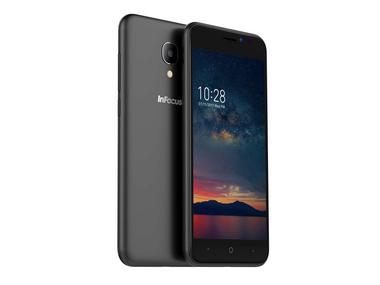 US-based InFocus has been in the Indian markets for quite some time. Though it hasn't managed to capture the market as it would have liked because of the influx of the Chinese smartphone companies in the market. Nevertheless, InFocus is launching a new smartphone in India to revive sales and try and push the competitors out of the market.
Presenting the A2
At Rs 5,999 there isn't much we can expect from the Infocus A2, as the Redmi 5A offers a bit more. However, it seems that the company has delivered nonetheless.
For its price, you will be getting a 5-inch HD display with a 2.5D curved edge screen protecting it. The phone is also pretty durable for its price tag, as it is made from Aluminum 6000. This incidentally is the same material used for making the Moto Z2 Force. However, it doesn't have a fingerprint sensor on it, although we see that many of the phones in any price range are offering up this simple security functionality now. There is a small possibillity that the phone might have a faceID like feature in the future thanks to software updates, but that remains to be seen.
Specifications
In terms of processing power and hardware, you can find a not so well known C9832 chipset inside. It has been clocked at a maximum of 1.3 GHz, along with a low-power GPU for running low-end graphics. Apart from this, there is 2 GB RAM as well as 16 GB internal storage with the option of expanding using a microSD card slot till up to 128 GB. There are also rumours of a new and higher upgraded version of the phone in terms of hardware in this year. However, that will depend on how the phone sales perform.
In the camera department, we see that the phone has only a single camera module on its back with an 8 MP resolution accompanied with dual-LED flash. The phone has an Android 7.1 out of the box in terms of software with an overlaying company's proprietary Smile UX skin.
As far as connectivity options go the A2 has 4G VoLTE dual-SIM connectivity, Bluetooth 4.0, Wi-Fi and GPS. The device has a relatively large battery with 3,800 mAh capacity and the company says that the phone has a standby time of up to 6 days.
The InFocus A2 will be arriving in 3 colours and will be available on Flipkart and Amazon both. The phone's journey won't be very placid in the market as Oppo is also launching a budget smartphone in the near future which looks like it will have better hardware.