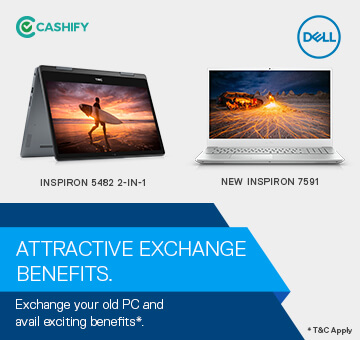 How to avail the exchange offer?
STEP-1
Register yourself to avail best offers
STEP-2
Evaluate the value of your old laptop
STEP-3
Buy the new Laptop (
click here
) in exchange for old one
Registration Successful!
Click on check price to find the best value of your old laptop to be exchanged.
Terms of Use
Cashify.in, in collaboration with Dell is starting a laptop upgrade Offer.

The exchange is offered exclusively by Cashify.in in collaboration with Dell.co.in.
You can reach out to Dell sales representatives at 1800-425-4002 / 080-2510-8001 for assistance required to avail the offer.
Customers need to register with Cashify, generate & confirm the value of old device and purchase new laptop on Dell.co.in to avail the offer.
The old device will be picked up within 3-4 business days after new product from Dell.co.in is delivered.
You will get back the value of old device at the time of pick up in the payment receipt mode you selected during registration at Cashify.
The offer is applicable on laptop models sold by Dell.co.in only. Applicable models- Inspiron 5480, Inspiron 5580, Inspiron 5390 and Inspiron 7591 and Inspiron 3470.
By availing this offer, the customer expressly agrees that Dell (or any of its affiliates) will not be liable or responsible for any loss or damage whatsoever that a customer may suffer, directly or indirectly, in connection with this offer.
Dell nor any of its affiliates make any warranty of any kind, express or implied in relation to this offer.
You hereby release Dell and its affiliates from liability of any kind relating to the mentioned above.
These offer terms are governed by the laws of India and the courts at Bangalore will have exclusive jurisdiction over any matter or dispute in relation to this Offer.